Biographie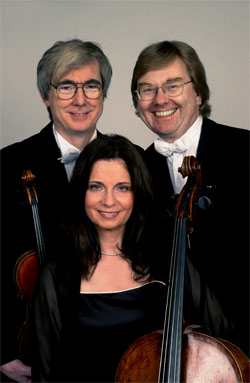 2016 the Abegg Trio was celebrating its 40t anniversary. The trio, composed of Ulrich Beetz (violin), Birgit Erichson (violoncello) and Gerrit Zitterbart (piano), has been concertizing together since 1976. Critics have acclaimed their performances "extraordinary" in many different ways.
Intuitive understanding shapes the harmony of their playing – a sense of harmony which can only inspire an ensemble which for three decades has devoted with undiminished joy its energy and passion to interpretations that remain faithful to the original.
This energy was praised many years ago by one of the most prominent German music critics, Joachim Kaiser, when he wrote about the Abegg Trio: "These young musicians take the musical texts, the results of research, unusually seriously. They do not perform chamber music in an innocuous or sentimental manner; they want to produce interpretations of weight and aggressiveness and of the greatest inner truth."
This interpretative approach was honored at the beginning of their work together with awards in competitions in Germany and abroad: Colmar and Geneva in 1977, Bonn in 1979, Bordeaux in 1981, the Bernhard Sprengel Prize in 1986, the Robert Schumann Prize in 1992. They have been invited to make concert and festival appearances in 50 countries.
The Abegg Trio is characterized by a never-ending curiosity for musical discovery; their most recent activities have included work with historic fortepianos. Till now the Trio used grand pianos of Gottfried Silbermann, Anton Walter, John Broadwood, Nannette Streicher, Louis Dulcken, Conrad Graf, Johann Fritz, Camille Pleyel, Baptist Streicher, Bechstein, Büthner, Bösendorfer and Érard.  
The more than 30 CD recordings of the Abegg Trio have received high critical praise and many awards, including the "German Record Critics' Award" five times.
Recordings by the Abegg Trio include piano trios by Mozart, Haydn, Beethoven, Schubert, Chopin, Smetana, Brahms, Dvořák, Tchaikovsky, Rachmaninoff, Janáček, Debussy, Ravel, Schostakowitsch, Henze, Erdmann, Killmayer, Acker, Rihm and Obst.
In addition to their concert activity, the members of the Abegg Trio are teaching as professors at music universities: Ulrich Beetz and Birgit Erichson in Münster, Gerrit Zitterbart in Hanover. They pass on their experience and expertise to young musicians in master classes in the US, Canada, Chile, Germany, Switzerland, Finland, Estonia, Lithuania, Rumania, Kyrgyzstan, Kazachstan, Uzbekistan, the Phillipines Malaysia, Indonesia, Vietnam, Australia, New Sealand, China and North Korea.